KP-08 is for you!

Versatility, accuracy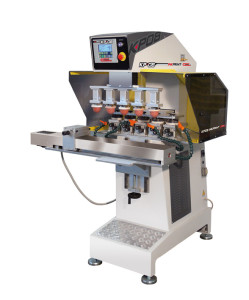 , reliability: when it comes to printing are the most valued qualities. If you want the best for your prints on any type of surface, KP-08 of Comec Italia brings together all these features.
Available with configuration from 1 to 5 colors, lends itself to multiple needs of work because it can be prepared in different ways: with independent pads, with device for printing 2/3 colors on stationary piece, with Slide system for printing large surfaces, even irregular.
If we add the opportunity to attach a number of devices such as pads automatic cleaning, hot air, the device for the flame treatment of the pieces, corona treatment, various types of feeders, we obtain the perfect machine for each printing needs.
Caps, pens, different types of packaging for cosmetics, medical aids, parts of household appliances, car wheels are just some of the items that you can customize with the functions of KP-08, all electronically controlled for an easy and fast printing experience.
You can see it working here https://www.youtube.com/watch?v=K2hvxl5gLeo
Do you want to know more? Contact us! We will help you to find the printing system tailored to your company!