The photoexposures

We receive and gladly publish a clarification request on previously treated arguments.
"Good morning,
I have seen that there are on the market different types of equipment for the production of photopolymer cliché. In particular, manual photoexposures and more complex machines. But what is the difference, and what involves the choice of one rather than the other? "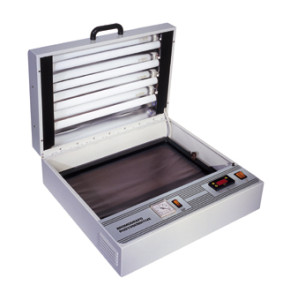 As we have seen in the preceding article, the making of photopolymer/nylon cliché mainly includes three steps: exposing the plate to UV lamps with foil and subsequently with screen, immersing the same in alcohol and removal of the part required to achieve the engraving, oven drying/UV exposure.
With so-called manual photoexposures you can play the first part of the process, exposure to UV rays with film and screen. Then you can immerse the plate in a tank with alcohol and with a brush manually remove the layer covering the incision, with regular and precise movements. Generally, these accessories are supplied in a kit together with the machine. Finally you should put the plate in an oven and then again under UV, thus obtaining the cliché finished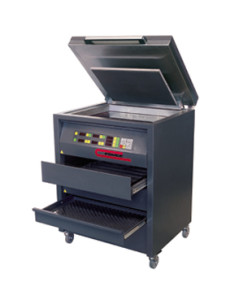 so easy and cheap.
There are then complete photoexposures which allow to perform all three operations with a single machine, which includes the exposure chamber to UV rays, bath of alcohol for development with brushes and rotating magnetic plane, for etching, and drying oven for final.
The choice of a method or the other depends on the amount of work of the company, the experience and the operator's manual skill, the time available. In general we can say that for the needs of a small craft business a manual photoexposure may be sufficient, but if we need a larger production of cliché we should orient ourselves on a machine that allows us to carry out all process operations more simple, fast and clean.
Comec Italia has a range of equipment, both manual (photoexposures series BR M) and complete with all accessories (photoexposures series BR SV), as well as of all consumer products (plates, inks, etc.). In addition, an internal engraving department is able to realize in short times for its customers any type of cliché.